Jockey Alberto Pusac has made his first trip to Fonner Park a good one.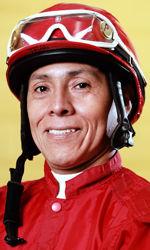 Pusac found his way from Turfway Park in Kentucky to Fonner on the advice of his agent Damian Martinez.
"It's my first time here and I like it," Pusac said. "I'm doing good. The winter time is very cold, but I was riding over there and it was cold cold. I didn't want to come to cold, but it's OK. Damion Martinez called me and I said, 'OK, let's do it."'
Pusac has had success this year at Fonner Park. With just two days of racing remaining, he stands tied for fourth in the jockey standings with 27 wins.
Jake Olesiak leads the way with 38 while Chris Fackler has 36 and Armando Martinez 31.
For his career, Pusac has won 536 races since he came to the United States from Peru 13 years ago.
Pusac started at Gulfstream Park in Hallandale Beach, Florida. He rode twice there and one year at Calder Race Track in Miami Gardens, Florida. In his first trip to Canterbury Park in Minnesota he came away with 29 wins.
This isn't Pusac's first experience with a bullring-type track.
He rode on one when he started as a jockey in Peru.
He said riding a smaller track is much different for a jockey.
"With a half mile track you don't have too long of stretches," he said. "You have to come close to win the race. If you're not close, you can't win."
Pusac plans to go to Horsemen's Park in Omaha and on to Prairie Meadows in Altoona, Iowa.
"This is my first time at Iowa, Omaha my first time too," Pusac said. "So I'm having some new experiences now."
If Horsemen's Park and Prairie Meadows go as well as Fonner did, Pusac will be happy.
"My first time here, it's been good," Pusac said. "Very good."
Chilango wins Fonner feature
Chilango, ridden by Chris Fackler and trained by Jim Compton, held off the field to win the Fonner Feature Sunday.
Chilango led by four lengths going into the stretch, but his lead shrunk to 1 ¾ at the wire over. He covered the 6 ½ furlongs in 1:21.8.
Chilango paid $5.40, $3.80 and $2.80 to win. Big Hearted Factor paid $18.20 and $9.20 to place and Foolish Prince $3.20 to show.
It was the fourth win in five starts this year at Fonner for the 7-year-old son of Midshipman and Honey Harbour.
It was his eighth win in 39 career starts and brought his career earnings to $112,578.
-- Jockey Dakota Wood and trainer Jerry Gourneau teamed up to win the second race with Witt's Strike and the third with Bold Bulldog.
-- Wood also won the finale on A Bunch for Lunch for trainer John Ness.
-- Fackler also won the eighth races on Chilango for trainer Jim Compton for his second win of the day.
-- Isai Gonzalez has taken control of the trainer's standings and now leads with 27. David Anderson is second at 23 while Kelli Martinez and Mark Hibdon have 15 each.
Nominees for Swihart, Coors Starter Allowance
Nominations are in for the 36th running of the $20,000 Al Swihart Memorial Stakes and the 22nd running of the $10,000 Coors Starter Allowance on Saturday, the final day of the live racing season at Fonner Park.
The Swihart, a six and one-half furlong race for fillies and mares, attracted 22 nominees. That includes Love at Night, trained by Terrell Hemmer, who won the Bold Accent Stakes, the Orphan Kist Stakes and the Runza Stakes this year. Mazee, a 4-year-old Nebraska-bred filly trained by Jim Cranwell, is also 3-for-3 this year at Fonner Park.
Chub's Charmer, who is trained by Marvin Johnson and won the Orphan Kist and the Runza a year ago, was also nominated.
The Coors Starter Allowance, a one and one-eighth mile race for horses who have run for a claiming price of $5,000 in 2018 or 2019, attracted 17 nominees. That includes Fudge Proud, trained by Marvin Johnson, who has won twice at Fonner this year.
Judge Dixon, trained by Gonzalez, had three straight wins at Fonner before finishing fifth in his last out.
Al Swihart Memorial Stakes
Atoka Girl, Joe David; Chub's Charmer, David Anderson; Dixie Flyer, Anderson; Emerald Point, Mike Sorensen; Grand Abbie, Stacey Rushton; Green Lakes, Isai Gonzalez; Hows My Gold, Mark Sweitzer; Iwannatalkaboutme, Kelli Martinez; Ize Discreet Rose, Mark Sweitzer; Kinky Kim, Gonzalez; Love at Night, Terrell Hemmer; Maybea Grand, Rushton; Mayzee, James Cranwell; Natchez Pass, Milt Gaide; Say Cin Cin, Martinez; Showreel, Ron Westermann; Silver's Swan Song, Gonzalez; Stalker, Brian Roberts; Sweet Shot, Gonzalez; Ubetcha Ima Bumper, Roberts; Ultra Arumba, Gonzalez; Wirewirewire, David.
Air Assault, Marissa Black; Bar Trick, Mike Sorensen; Classy Cove, Kyndra McKinney; Dawson Who, Andrew Bossung; Dujac, Marvin Johnson; Foolish Prince, Isai Gonzalez; Fudge Proud, Marvin Johnson; Gone Preachin, Mike Sorensen; Judge Dixon, Gonzalez; Junkers, Mark Hibdon; Magic Miracle, David Anderson; Perfect Movement, John Ness; Primarily Gold, Larry Donlin; Senator Robert, Hibdon; Superstyle, Stetson Mitchell; Texican, Gonzalez; Zapper Dan, Dalton Dieter.