Members of the public were able to share their concerns about problem railroad crossings in Hall County during a meeting Wednesday.
At a nearly six-hour hearing, the Nebraska Public Service Commission took testimony from concerned individuals and railroad representatives regarding its investigation into blocked railroad crossings adjacent to Highway 2 from Engleman Road to Broadwell Avenue owned by Burlington Northern Santa Fe, and a section of track between Saint Paul Road and Sky Park Road, and Airport Road East to past Fourth Street East owned by Nebraska Central Railroad Co.
The commission took up the issue following a formal complaint from the Hall County Board of Commissioners.
Jamie Reyes, Nebraska transportation director and state railroad safety program manager, said with the frequency and wide area of the problem, the commission felt it necessary to open an investigation and to allow testimony from people in the community who have been affected by problem railroad crossings.
Reyes said the testimony would give commissioners an idea of how widespread and serious the problem is.
The hearing Wednesday was conducted much like a trial, with representatives from both sides bringing witnesses forward to testify and answer questions. Public comment was held at the end of the meeting, when five people voiced their concerns about the blocked railroad crossings.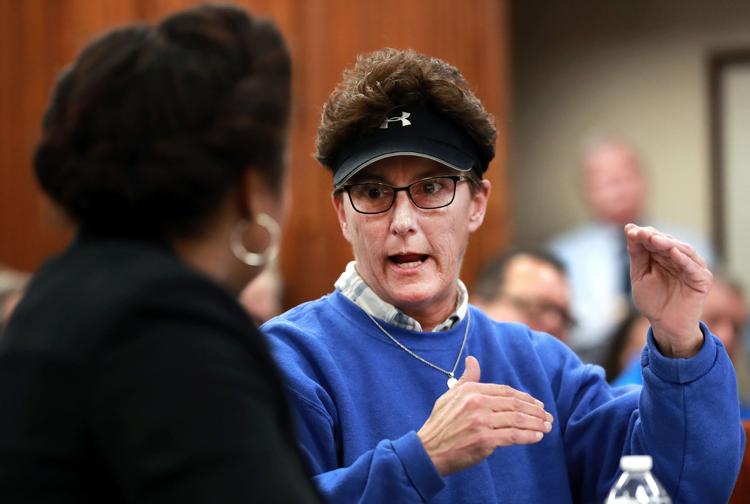 Shaun Shepardson, who lives near the intersection of Highway 2 and North Road where trains allegedly block the crossing there for an extended period of time, was the first to testify as a witness. She was questioned by Reyes.
Shepardson said she first noticed the train blockages on Aug. 3, 2010, when she had to take an "awful" detour around the blocked crossing to visit her mother who lived nearby.
"As time went on, there was more shenanigans at the crossings," she said. "The trains just sit there for hours and it is more than just a blocked crossing. It is the noises that go with the stopped trains that are a problem."
Shepardson said that when the train sits on the tracks at the crossing near her home, the bell rings constantly, the gates go down and the warning lights flash. She added there have also been instances when a train moves forward just enough to clear the crossing, but not enough for the crossing lights, gate and bell to stop going off.
At an October 2019 Hall County board meeting, Shepardson said that she hears the loud, annoying, dinging noise from her front porch nearly 24 hours a day due to trains being stopped on the tracks. She told the Public Service Commission Wednesday that when she has had enough with the bell dinging loudly for a long period of time, she will call 911, who can get them to move, but that another train will park at the crossing within 10 minutes.
In one instance in December 2018, Shepardson said, a train sat on the tracks near her home for 28 hours, with the bell ringing the entire time.
Jeffrey Davis, BNSF's executive director for government affairs, told the commission that there were two instances in December 2018 when trains sat at the Highway 2 and North Road crossing for extended periods of time. He said one incident was due to a mechanical failure, while the other was stopped due to a winter storm that closed major highways across the state.
"My understanding is that one of those delays lasted approximately 36 hours. That is not what we want," Davis said.
Reyes asked Shepardson how frequently the trains have been stopped at the crossing near her home. She said it occurs daily.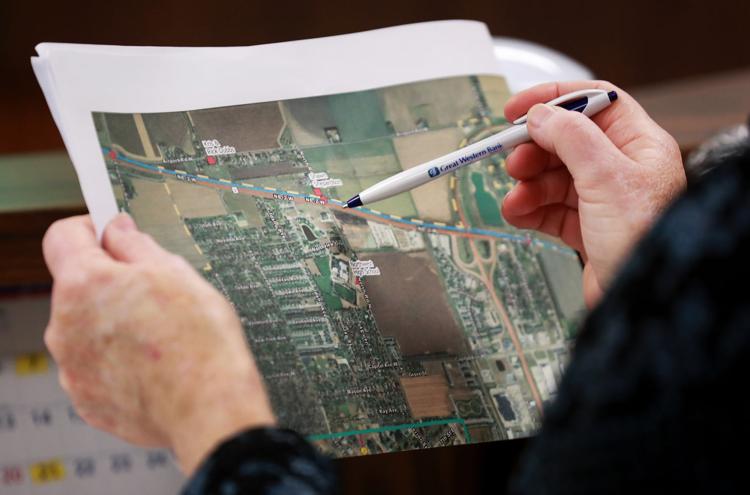 Commissioner Mary Ridder asked Shepardson how long she has not had access to the railroad crossing at Highway 2 and North Road due to it being blocked. She said she has dealt with the issue for the last five years.
Shepardson also told the commissioners that when the railroad crossing is blocked, semis, combines, tractors, fifth-wheelers and campers will back up in her driveway due to not having any other room to do so.
Kris Dubbs, who lives on Airport Road, told commissioners that she has been dealing with blocked railroad crossings for the past four years. She said that while she expected there to be trains on the tracks when she moved to her home, she did not expect it to be a parking lot where trains would be stopped for hours.
When the train stops at the crossing, Dubbs said, the front of the engine stops near her home and she can hear the sound of it.
"Sometimes, the train has two engines on it," she said. "They are terrible sounds and it is like one of those loud, booming stereos going off in our house. When we are outside, it is terrible, too."
Commissioner Tim Schram asked Dubbs if there was ever a time when she went to the crossing at Highway 2 and North Road and waited.
"Yes," she said. "Sometimes it goes slow and the train is going slow, so you think it is going to go right on by, but it doesn't."
Schram also asked Dubbs how long she has waited at this railroad crossing. She said she will wait for 10 to 15 minutes before turning around.
Tonya Baker, who lives on East Sixth Street in Grand Island, testified before the commission, speaking about issues she faced with blocked Nebraska Central Railroad Co. tracks in her neighborhood. She said, when she had issues with the trains blocking the railroad crossing for an extended period of time, she would call Hall County Commissioner Gary Quandt, who represents the area.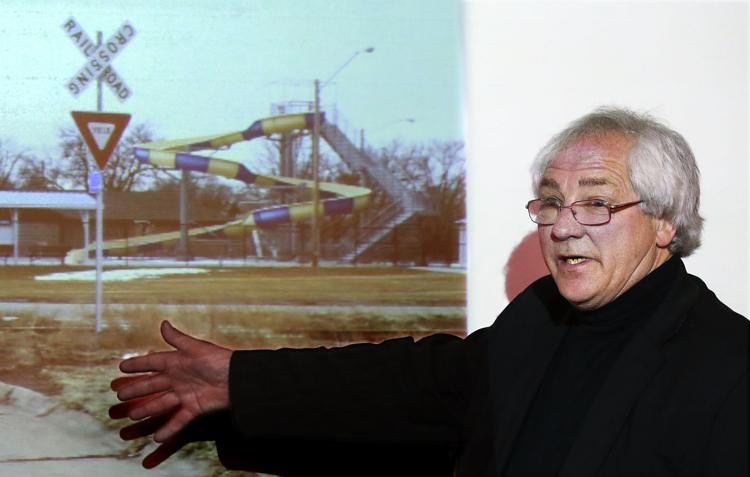 Prior to Wednesday's meeting, Baker said, she had not spoken with anyone from Nebraska Central Railroad Co. about her concerns with the crossings. She said she always called Quandt, who then relayed her concerns to railroad officials.
Reyes asked Baker what her alternative route is if a train is blocking Fifth Street.
"If there is a train, I do a u-turn, go clear to Sky Park Road, clear to Capital Avenue and then continue east to Shady Bend Road," she said. "I then take Shady Bend Road to Highway 30 to come back into town."
Baker said her alternate route adds 15 minutes to her commute. She added it may be more if there is also a train at the Shady Bend Road crossing.
Ridder asked Baker how people turn around at the crossing when a train is stopped at it due to there being a long line of cars waiting. Baker said there is an automotive shop with a side road that people use to turn around.
Grand Island/Hall County Emergency Management Director Jon Rosenlund, who oversees the 911 center, told the commission that in 2019, 911 had a total of 101 phone calls regarding a variety of railroad issues. Of these calls, he said, 35 of them were in regard to trains blocking the crossings for an extended period of time.
During his witness testimony, Grand Island Police Chief Robert Falldorf said his department responds to 30,000 to 40,000 calls a year. He said blocked crossings may impact officer response times, but that most are able to find alternate routes to have only a minimal increase in response times.
Grand Island Fire Chief Cory Schmidt told the commission that blocked crossings affect his department as it increases the response times to get to an address and to transport an individual to CHI Health St. Francis if needed.
He said that fire personnel typically determine the best route to take before they leave the station and try to take routes with overpasses or underpasses, but it may not always be possible to do so.
Northwest Public Schools Superintendent Jeff Edwards also testified. He said that on one occasion a train was stopped at the crossing when Northwest High School's cross country and track teams were out running. The coaches had to go around the train, get a school van and go around to pick up the students so they could get back to school safely.
Edwards said the blocked railroad crossing is an inconvenience to Northwest High School students who may be trying to get to and from school.
He told the commission that on Tuesday afternoon, he left the high school at 4:30 p.m. to head to a meeting before returning to his office at 6:30. He said a train was on the tracks when he left and was still there when he returned. When Edwards left work around 8:45, the train remained.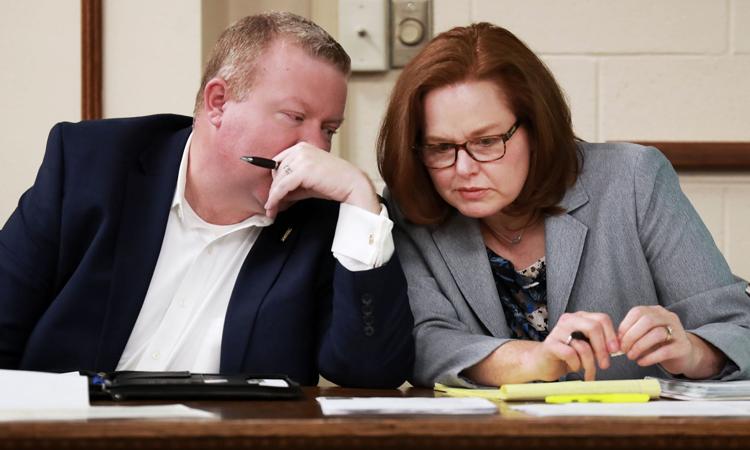 Nichole Bogen, a Lincoln attorney, represented both railroad companies at Wednesday's commission hearing. She questioned representatives from both BNSF and Nebraska Central. She said that there is a superintendent instruction bulletin that tells Nebraska Central crews to hold its trains just outside of Grand Island past Airport Road to not block Capital Avenue while handing its trains off to Union Pacific crews.
Bogen said Nebraska Central does not have any information on how long the trains sat on the tracks before being handed off to Union Pacific, but she did provide the commission with the times the trains were handed off to Union Pacific.
Before receiving an order from the commission, Bogen said, Nebraska Central had not heard about any issues of blocked crossings happening in Grand Island or that community members were concerned about it.
"Since receiving an order from the Public Service Commission, Nebraska Central is trying to find an even better solution than simply waiting and holding trains outside of town," she said. "They have reached out to Union Pacific to try to move that crew change location."
Davis said the BNSF tracks have become a "bottleneck" that forces trains traveling on it to stop on either end for a "meet pass."
"To minimize blocked crossings, eastbound trains stop underneath the Highway 281 overpass, just north of Webb Road," he said. "These trains stretch west and block North Road, but do not block Engleman Road."
On Jan. 31, 2019, Davis said, BNSF officials met with Grand Island and Hall County officials to resolve the issues with the blocked railroad crossings. At that meeting, BNSF officials provided details about the two incidents in December 2018 when trains were stopped for an extended period of time and outlined why the North Road location is the best "meet pass" location for its trains to stop at.
"At that meeting, we proposed two solutions," he said. "One was to close the North Road crossing, with BNSF providing a financial incentive. Another was to install a circuitry that would turn the bells off after a certain period of time, which is a common practice in other states. Grand Island and Hall County rejected both of those proposals. Nobody wants to close a crossing and nobody wants to assume liability when the bells stop ringing."
The Public Service Commission plans to review all evidence and testimony before issuing a decision in the form of an order at a later date.