If people contact CHI Health St. Francis fearing they may have coronavirus, they will first be screened with a time-honored test called a respiratory viral panel.
The test looks at a variety of respiratory viruses.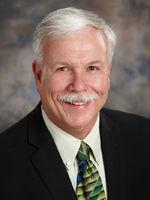 If the person screens positive for Influenza A, "then we'll treat for Influenza A," said Ed Hannon, president of CHI Health St. Francis. In that case, there would be no need to treat for COVID-19.
A very small percentage of patients will have both Influenza A and COVID-19 "or have multiple respiratory virals going on at the same time. It's possible, but it's a small number," Hannon said.
The country does not have enough resources to give every American access to the COVID-19 test today, Hannon said. But doctors are very comfortable with the respiratory viral panel, which is something "we can provide," Hannon said.
If the tests "come back negative for any of those panels," depending on what a physical exam turns up, the health care provider may decide the patient would be a candidate for a COVID-19 test offered through the Nebraska Public Health Lab.
The lab specimen taken from the patient is typically a nasopharyngeal swab. The health care provider uses a tool that goes into a person's nose to obtain the sample. It's "not a very comfortable test to get done," Hannon said.
The respiratory viral panel is the same test administered to people who drive up to CHI Health St. Francis. But the hospital does not offer drive-up screenings, Hannon said.
Before getting tested, a person needs to get an order from a health care provider. The doctor would order a respiratory viral panel, assuming the person isn't sick enough to require a visit to the emergency department.
The patient is then scheduled "through our out-patient scheduling area," Hannon said. The patients are told how the process works, where to park and "how to notify us that they are here," he said.
CHI Health has seen no interruption in its intake of personal protection equipment or other supplies.
The Grand Island hospital works closely with the other 14 CHI facilities in Nebraska and southwest Iowa, Hannon said. The health care employees also network with CHI Health's parent organization, CommonSpirit Health, which is the largest faith-based nonprofit health care organization in the U.S. CommonSpirit operates more than 130 hospitals in 21 states.
It would take a lot to strain the resources of the CHI Health.
At normal capacity, the 15 hospitals have 2,000 beds, Hannon said.
Across the CHI Health system, the hospitals have more than 125 traditional ventilators. In addition, 115 nontraditional ventilators, which are used "for things like anesthesia," can be quickly converted, Hannon said. CHI Health also has 150 noninvasive ventilators. So the system has close to 400 ventilators at its disposal.
Preparing for the pandemic is "in some ways no different than how we plan regularly," Hannon said. The hospitals have "very elaborate disaster plans," he said.
CHI Health employees in Grand Island meet every day to talk about "what are our needs, what are we dealing with, how do we prepare for tomorrow, what do we know for sure," and how do they plan, Hannon said.
Are CHI Health St. Francis employees concerned about their own health?
"Absolutely. I think everybody is today," Hannon said, adding that "there's so much unknown about COVID-19."
Officials have told employees to remain calm.
"You've got to be able to turn off some of the noise that's in the background and focus on what we believe to be the North Star of facts and truth," he said.
The hospital has "asked our employees and the physicians in this community" to stay current on information coming out of the Centers for Disease Control and Prevention.
They're paying close attention to the CDC guidelines, such as "when do we use a mask," what type of mask should be used and what disinfectant should be used.
"That's a great way in which you can keep all of us focused, all of us on the same page together, and keep out the noise from everybody who thinks they may be an expert, who saw something from some other source." This way, everyone stays grounded and working together, he said.
Hannon is a big believer in limiting exposure to one another and proper hand-washing.
"I want the public to know that the 750 people who work here at St. Francis and all of the providers in the community — the physicians, the nurse practitioners, the PAs, all of us — are working tirelessly to care for the community, no matter what their circumstances.
"Everybody is very proud to say, 'I'm a health care provider, this is what I signed on for, is to take care of the community,' and we are working tirelessly to do that." Residents should "just follow the direction of their health care providers and we'll get through this."
There aren't enough tests for everyone to get COVID-19 testing done on a timely basis. "Our country's working on that," Hannon said. New testing methods are being worked on and labs are going up "as we speak," he said.
But, right now, not every U.S. resident has access to a COVID-19 test.
Central District Health Department and local physicians are working hand-in-hand to use the limited resources wisely, he said.
They determine whether a patient is truly at a high risk and whether a lab sample should go to a commercial lab or the Nebraska Public Health Lab. Usually, a respiratory viral panel determines whether a person has coronavirus.
Local providers and Health Department workers are "being good stewards of our resources," Hannon said.