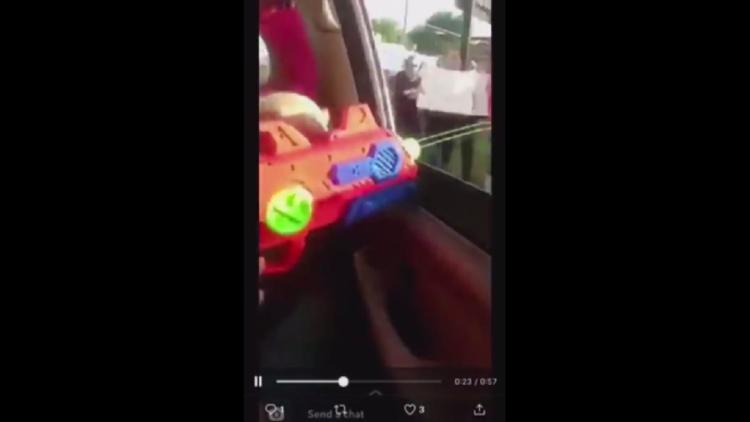 A 16-year-old male who allegedly sprayed a liquid at Grand Island protesters May 31 will be charged with third-degree assault and disturbing the peace.
Grand Island police have not yet determined how many charges he will face.
The suspect was in a vehicle that passed protesters as they marched from the Pizza Hut/Texas T-Bone area on South Locust Street to Pioneer Park. He allegedly sprayed protesters with fluid from a Super Soaker as they protested at Pizza Hut and as they walked.
In a video posted on Facebook, the suspect claims that the liquid is urine.
The suspect is the person observed in the video shooting the water gun, said Capt. Jim Duering. The suspect identifies himself in the video.
Police don't know how many counts the suspect will face "because we still do have victims coming forward," Duering said.
There were a total of four people in the vehicle, Duering said.
One of them, a 37-year-old Grand Island female, will be referred for contributing to the delinquency of a minor.
"We ascertained that it was her vehicle that was being used. She was in the vehicle. She knew that they had a water gun," Duering said. Police don't know if she was aware of what they were doing with the water gun, but there were young people in the back of the vehicle, not secured by a seat belt.
Police feel that as the adult present, her actions meet the statutory requirements of contributing to the delinquency of a minor.
One of the other people in the car has been identified. That person is not likely to be charged. When that person became aware of the use of the water gun, he or she "actually took some steps to stop the activity," Duering said.
Police are still working to identify the fourth person. It's not certain if that person will be charged. The individual is not seen shooting a water gun in the video "but there is another water gun that's observed, so we've got to figure that out," Duering said.
"The other big question is what was in the water gun," Duering said. "Most witness accounts seem to indicate that it's most likely vinegar."
So far, no witnesses — either in the vehicle or among the protesters — have stated that it was probably urine.
"But we don't want to discount that either. We're going to continue to look into that," Duering said.
Police considered the idea of charging the suspect with assault with a bodily fluid, which is a felony. But that statue is used only when health care workers and first responders are the victims.
"So the substance itself I think is important for people to know, if we can figure that out, but it really is probably not going to make a difference as far as the criminal charges in this case," Duering said.
The charges against the 16-year depend on how victims were struck "and how it affected those people," Duering said.
Third-degree assault requires some level of injury. "Lots of people were struck with the substance, but there was no pain. They weren't necessarily overly disturbed by it," Duering said.
But police want to make sure the charges account for "everyone who was affected by this," he said.