Tyler Cruse, who is accused of assaulting and yelling racial slurs at a 64-year-old man while trying to break into a home June 11, says what happened was absolutely nothing like that.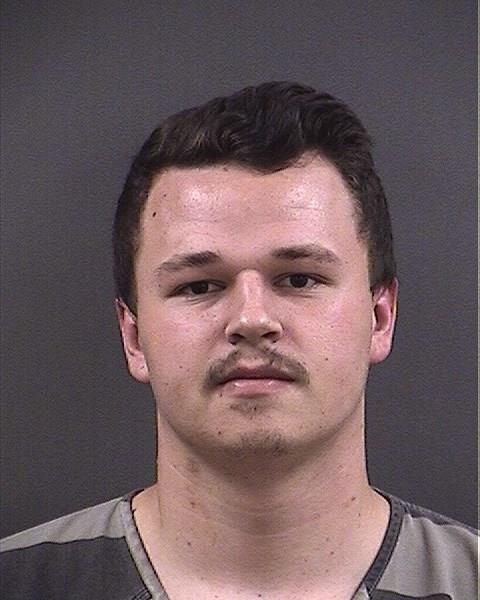 Cruse, who was in Hall County Jail until Wednesday, said he and a friend weren't trying to burglarize the house at 1124 W. Third St. He was trying to retrieve car keys for a friend of his girlfriend's sister. Instead of attacking a 64-year-old man, Cruse says he was the one beaten up. He also said he is not racist, and did not utter any slurs that night.
"This is neither a hate crime nor a burglary. I feel like I'm in here for all the wrong reasons," Cruse said last week when he was still in jail.
The police media report on June 13 said Cruse was arrested for assaulting an elderly Hispanic male after trying to break into the elderly man's home.
"Cruse reportedly told the elderly Hispanic man that he was going to kill him while continuing to yell racial slurs and also told the elderly male that he does not belong in America because he is not truly American," the media report said. "The elderly male exited the home to ask Cruse to stop trying to break in his front door when Cruse began to brutally assault the elderly male."
Court documents identify the older man as Juan Hernandez-Alvarado. Police say he is 64.
Cruse, 20, said he uttered only three phrases that night, "Are you Jose?" "I need Allie's keys" and "I'm here for the keys."
Cruse said he never was on the offensive that night. Because he is on probation for assault, he knew he wasn't allowed to hit anybody.
If Hernandez-Alvarado was injured, Cruse's companion must have hit him, Cruse said. "I never touched the old man."
Cruse went to the house as a favor to his sister's friend, he said. Allie's friend is a sister of one of his girlfriend's friends.
Three of the girls were in a car outside the house at 1124 W. Third St. They were attempting to get the car keys back from a man named Jose, Cruse said. "The only name I knew walking up to the house was Jose," he said. "I didn't even know Allie."
Police say Cruse and his friend approached the home after 1 a.m.
Cruse says he knocked on the door. A man whom he took to be Jose came to the door, and held up one finger. Cruse and his friend assumed that meant he'd be back in a minute.
Thinking about it, Cruse and his friend decided they should leave. The man who answered the door then came out a back door, knocked on a small house behind the main house, knocked on a window on the main house and whistled, Cruse said.
Two men — one young and one old — came out of a side gate and started yelling at Cruse and his friend, Cruse said. The young man started swinging at him, Cruse said. The older man came up behind him, Cruse said. His friend pulled the older man off of Cruse. The two men pushed Cruse against a side fence, he said. To protect himself, Cruse said, he started swinging out with his elbows.
As Cruse ran away, he scratched his elbow and hand on concrete when he slipped.
Hernandez-Alvarado was taken to CHI Health St. Francis.
In Hall County Court, Cruse was charged with criminal attempt at burglary, terroristic threats and third-degree assault, enhanced because it is considered a hate crime.
Cruse was released from jail Wednesday after his mother paid a $2,000 bond. Of that amount, $1,500 was 10 percent of the $15,000 bond total.
Cruse's mother, Danielle Yates, was worried about her son's safety in jail. A lot of people in jail "weren't fond of me," presumably because he's been labeled a racist, Cruse said. After the first three days, the rest of Cruse's time in jail was spent in protective custody.
Grand Island Police Capt. Jim Duering says it's possible Cruse might not have been breaking into the home.
"I would say that it could be argued that he was or was not breaking into the residence," Duering said. "According to the resident, that's what he believed was happening. According to one of the witnesses, he was knocking very loudly."
At that time of the morning, Duering said, "you could see how those two could be easily confused."
Initially, Cruse said "I knocked on the door like I would knock on anyone else's door." He then added, "I could have been knocking a little bit louder. The only light in the house that was on was upstairs. So I was knocking on the door as I was trying to get someone from upstairs to come downstairs."
While Cruse might have a valid argument that it was not an attempted break-in, Duering said he has no reason to disbelieve a witness or a victim as to what happened that night.
It was not a normal hour "to show up at someone's residence and be pounding on the door loudly and yelling through the door." Duering said. "So even if that wasn't his intent, you can see how any resident, given the time of day and the amount of noise that he was making, would have construed that to be an attempted break-in."
Cruse says he did not yell through the door. "No words were spoken until the two males came outside," Cruse said.
Duering said Cruse has not been cooperative in conveying his side of the story to police.
When he was contacted by police, Cruse said "I did not fight anyone." While that may not have been completely factual, he meant that he was not the aggressor, he said.
Cruse said he was also confused when he talked to police. "Basically I was trying to stay out of the situation that I was hardly involved with in the first place.
"I was just trying to help a young girl get her keys back," he said. Instead, he wound up being beaten by two men, he said.
Cruse was frustrated that the judge would not lower his bond below $15,000.
Cruse said he would never make racist comments. "Part of my family is Hispanic. Part of my family is black. I embody their heritage just as much as I do my own," he said.
Cruse said he is not being presumed innocent until proven guilty.
Hall County Attorney Marty Klein said he's aware of the case, but not of the specific facts. He can't add to what is already on the public record.
"We, of course, would not have arrested him had we not had probable cause to do so, we being the state of Nebraska" through the Grand Island Police Department, Klein said. "We'll have to let the process play out" and see how it's determined by the "ultimate fact-finder," meaning the courts.