Police say a 26-year-old Grand Island man has been contacting his ex-girlfriend from jail, asking her to help with the criminal charges against him.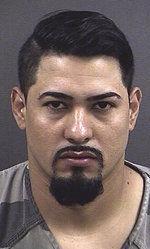 Baylon Bejarano-Espinoza was arrested Aug. 6 after he allegedly punched and kicked his 40-year-old ex-girlfriend. While he was in Hall County Jail, Bejarano-Espinoza has been contacting the woman through a third party, says Police Capt. Jim Duering. Bejarano-Espinoza has been asking her not to testify against him, not to show up in court and to change her statement, Duering said.
He was arrested Thursday for stalking, tampering with a witness and violation of a protection order. Those offenses were committed while he was confined in the Hall County Jail, police say. From now on, Duering said, Bejarano-Espinoza will be allowed to call only his lawyer.
In Hall County Court Monday, Bejarano-Espinoza was charged with felony-offense stalking, tampering with a witness/informant/juror and three counts of violating a protection order. A preliminary hearing will be held at 1:30 p.m. Dec. 9.
In early August, police reported there were multiple visible bruises and abrasions covering the ex-girlfriend's body. She also suffered a broken elbow from the assault.
The victim reportedly told police that while Bejarano-Espinoza was assaulting her, he threatened to kill her multiple times. She reported that Bejarano- Espinoza wrapped a phone cord around her neck and attempted to smother her with a blanket. He then put his hand over her mouth and nose, causing her breathing to be obstructed.
Those incidents allegedly took place between July 25 and Aug. 6. All of the incidents occurred while there was a valid and served protection order in place in which Espinoza was the restricted party and the victim was the protected party, police said.
On Aug. 6, police arrested Bejarano-Espinoza for first-degree domestic assault, terroristic threats, 10 protection order violations, stalking and strangulation.