A Central City man facing state charges for human trafficking of a minor and third-degree sexual assault now faces federal charges.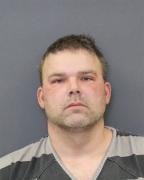 U.S. Attorney Joe Kelly announced in a press release Monday that Robert K. Hopkins, 39, of Central City, was charged in an indictment with one count of production of child pornography and one count of possession of child pornography. The first charge carries a 15-year mandatory minimum sentence, a maximum penalty of 30 years and a life term of supervised release.
The latter charge carries a maximum penalty of 20 years in prison and a life term of supervised release. There is no parole in the federal prison system.
At the state level, Hopkins faces felony charges of third-degree sexual assault of a child and labor/sex trafficking of a minor. He was initially charged with visual depiction of sexually explicit conduct, but court records show prosecutors dropped that charge on Jan. 16.
The charges stem from an alleged Dec. 17, 2019, incident where Hopkins allegedly drove an 8-year-old girl to a rural area south of Grand Island, took pictures of her private areas and sexually assaulted her. Court records state the girl also told investigators about two other sexual assault incidents that allegedly occurred in November 2018 and July 2019 in Central City.
Hopkins was released from the Hall County Jail after paying 10% of his $75,000 bond amount on Dec. 27, 2019. He is set to be arraigned at 9 a.m. Feb. 4 in Hall County District Court.