Bob Stahla Homes | Mobile Homes | Grand Island NE
| | |
| --- | --- |
| Sunday | Closed |
| Monday | |
| Tuesday | |
| Wednesday | |
| Thursday | |
| Friday | |
| Saturday | |
About Bob Stahla Homes | Mobile Homes | Grand Island NE
The most trusted name in the pre-owned mobile home business!
We have been in business serving the Grand Island, Nebraska region since 1972. We have developed a solid reputation with the mobile home community in the area. We offer competitive pricing and exceptional customer service.
We offer service and maintenance of mobile homes and recreation vehicles!
Bob Stahla Homes is in the business of building communities. We not only provide quality, reliable mobile homes but, also provide servicing to keep things in running order. We offer customer care throughout the state of Nebraska including, but not limited to:
• Ainsworth, NE
• Alliance, NE
• Chadron, NE
• Cozad, NE
• Gothenburg, NE
• Grand Island, NE
• Hastings, NE
• Holdrege, NE
• Kearney, NE
• Lexington, NE
• McCook, NE
• Neligh, NE
• North Platte, NE
• Ogalala, NE
• Scottsbluff, NE
• Sidney, NE
• Smith Center, KS
• Spring View, NE
• Taylor, NE
• Valentine, NE
• York, NE
•  Break Rooms 
•  Classrooms 
•  Concession Stands 
•  Construction Trailers 
•  Control Booths 
•  Field Offices 
•  Guard Houses
•  In-Plant Offices 
•  Industrial Offices 
•  Laboratories 
•  Room Additions 
•  Sales Offices 
•  Storage Units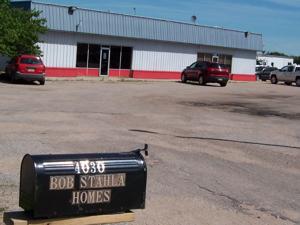 Bob Stahla Homes offers a variety of services to meet your needs. We have worked with insurance companies since 1972. Services include:
Recreational Vehicles:
•  Service on recreational vehicles
•  Parts for recreational vehicles
•  Insurance estimates and repair
•  Ability to repair any recreational vehicle, any year, any make and model
Mobile/Modular Buildings:
We build construction offices, classrooms, and storage units to your specifications. Available to rent, lease or purchase.
•  Used for field offices, concession stands, break rooms, guard houses, classrooms,
   beauty shops, laboratories, industrial offices, sales offices, control booths, storage units,
   in-plan offices, construction trailers
•  Shortened construction time
•  Cost effective
•  Quick delivery
Land Add-A-Rooms:
•  Manufactured in Nebraska since 1970
•  Constructed at our shop, moved to your home
•  Shortened construction time on your premises
•  Designed to your specifications
Transportation or Manufactured Homes and Mobile Buildings:
•  Able to transport manufactured home/building within the state of Nebraska
•  Ability to prepare home to move, transport and set the home at the new location