KEARNEY — Rick Brown, arts and entertainment reporter for the Kearney Hub, will present "Verbatim: All I Did is Ask," at 2 p.m. Wednesday, July 24, at the Museum of Nebraska Art in Kearney.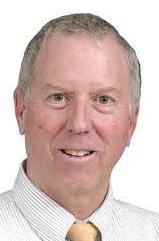 The program is part of the museum's Collection Connection series.
Brown will share snippets of his conversations recorded with Nebraska artists during his 13 years of writing about the art scene in Central Nebraska. Brown studied media production at the University of Arizona. His background in music and theater includes work with Arizona Theater Company and writing award-winning plays, as well as a 17-year stint as a producer and host of a 30-minute children's show on non-commercial radio stations.
He writes a weekly art column for the Kearney Hub and covers the arts in mid-Nebraska. In his spare time, Brown plays the accordion, tells stories, makes fine art mobiles, and collects twigs.
The MONA Guild will host its final "Sounds of Summer" performance featuring Formerly Three at 7 p.m. Thursday, July 25, in the museum's Cliff Hillegass Sculpture Garden.
Gates open at 6 p.m. and tables and chairs are available for self-catered picnics. The concert will last until about 9 p.m. There is no admission charge, although donations are always welcome during intermission's "pass the hat."
Then on Friday, July 26, a new exhibit, "The Museum of Nebraska Art Spotlight On: Leonard Thiessen" will open.
Thiessen, most remembered as an art critic for the Omaha World-Herald and the first director of the Nebraska Arts Council, left a lasting impact on Nebraska's art scene. "Spotlight On: Leonard Thiessen" showcases many of his seldom-seen works in MONA's collection. From paintings to prints, drawings to experimental artistic musings, the Museum of Nebraska Art has more than 100 pieces by the artist in addition to an extensive archive of his papers and ephemera.
The exhibit will remain on display through Oct. 27.
The Museum of Nebraska Art, 2401 Central Ave., is open from 10 a.m. to 5 p.m. Tuesday through Saturday and noon to 5 p.m. Sunday; it is closed Mondays and major holidays. There is no admission charge.
The Museum of Nebraska Art celebrates the history of Nebraska's visual art for diverse audiences. MONA collects, preserves, researches, exhibits and interprets the work of artists who were born, lived, trained or worked in Nebraska or who created artworks that reflect the culture of Nebraska.
For more information, call (308) 865-8559.